Welcome to November- the wacky Halloween costumes are back in the closets, the pumpkins are rotting, and the turkeys are getting nervous. What better way to start then jumping right to the Holiday show at Disneyland? There's a new World of Color show for Disney California Adventure, dubbed "World of Color-Season of Light", and will be the 4th edition of the show. This holiday show will feature more than 120 characters from over 30 Disney and Pixar animated films and will include some well-known holiday songs, such as "The Christmas Song" by Nat King Cole, "Baby It's Cold Outside" by Michael Buble and Idina Menzel, "Mele Kalikimaka" by Bing Crosby and the Andrew Sisters, and "Blue Christmas" by Elvis Presley, among others. As the last leaves of autumn give way to the arrival of winter, Mickey and his pals decorate their homes for Christmas and features themes such as snow (the frost fairies from Fantasia), love and romance (featuring Disney's fairy tale couples), family and home (Andy's family from Toy Story, Stitch and his 'Ohana, and The Three Caballeros), the nutcracker (featuring the hippos and alligators from Fantasia), lights (Goofy and Sadness from Inside Out), and culminating in a stunning finale with Peace on Earth. The new show will be around through January 8, 2017, so make sure to catch the holiday spirit!
Holiday experiences are not just reserved for the parks- there's a new holiday experience at Disney Springs and it will feature flying drones! Check out the video for a tease of the floating Christmas tree effect that Imagineers have created.
Also at Disney Springs, guests will be able to enjoy the Christmas Tree Trail around the Marketplace where 15 specially themed trees will be decorated; The Festival of Toys at Once Upon a Toy Fountain where guests can join magical toys who have come to life for a fun dance party; Santa's Chalet where guests can meet the jolly man himself; the night tree lighting where each night at 6pm, guests will get to experience a tree lighting ceremony; and many seasonal offerings for merchandise and holiday artwork by sketch artists. Another great adventure slated to begin after the Black Friday festivities, will be Stitch's scavenger hunt- fun for the whole family! Make sure to complete the hunt to obtain the completer button!
What holiday season wouldn't be complete without gift ideas? Here's some new Dooney and Bourke bags that are sure to be at the top of everyone's list- I'm loving the Villains bags!
Moving over to Hong Kong Disneyland, the Iron Man Experience will open officially on January 11, 2017, where guests will get to fly alongside Iron Man through Hong Kong, fighting Hydra and saving the city! Once you're battle is done, guests will step into the Stark Expo Shop where plenty of merchandise featuring the hero will be available, as well as a chance to try on Iron Man's suit with the interactive game Become Iron Man!
Also overseas, Shanghai Disneyland will be getting an expansion already- Toy Story Land! Ground has already been broken and one can only imagine this new land will open relatively quickly as it has been described as part of the "accelerated expansion plan" for the first phase of this park. Similar to the Toy Story Land planned for WDW, this Toy Story Land will also immerse guests into the toy experience in Andy's back yard with 3 new attractions and a unique character greeting area. However, Bob Chapek, chairman of Walt Disney Parks and Resorts, described this land as being "distinctly Chinese." So, basically, you should try to see both lands at some point as it seems like they will be 2 different experiences, which is awesome!
The Disney Wonder has completed its upgrades and, boy, does it get me excited for our eventual 2018 Alaska cruise aboard the newly renovated ship. Exclusively on the Wonder, the Walt Disney Theater will feature Frozen, A Musical Spectacular! In the Oceaneer Club, young guests will get to play and interact with Olaf, Anna, and Elsa at Frozen Adventures. Also in the Oceaneer Club, young guests will get to visit Captain America and his friends at the Marvel Super Hero Academy. One of my most anticipated places that will be unique to the Wonder is Tiana's Place, a new restaurant inspired by the animated feature, and featuring flavors of the Louisiana bayou. For adults, the After Hours entertainment district will feature a new nightclub Azure, Crown & Fin Pub, and more for adults to enjoy as the young ones dream away.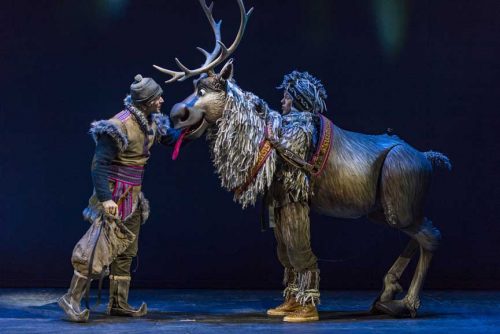 And let's complete our news with something just as lovely- the reveal of the new poster for the upcoming live action Beauty and the Beast!